From the French salamander, it derives from the ancient belief that the salamander (an amphibian that lives in swamps and ponds) could live in the fire

It is a professional catering equipment generally composed of a steel grill, handles made of athermic material and a heating regulator and its function is to refine, grill, toast and keep warm food.

The professional salamander is now an indispensable accessory for delicatessens, bars, restaurants, canteens and communities that need to quickly heat sandwiches and toast.

The M.P.C. proposes 2 articles of electric salamanders of Italian production, realized by TEKNOLINE, respectively the SM2 (closed and insulated also laterally) with power of 2200 watts and the SD400 (open) with power of 4000 watts.

Both are totally realized in stainless steel therefore easily cleanable and hygienic with armoured resistances, power regulator and handles in athermic anti-scald material.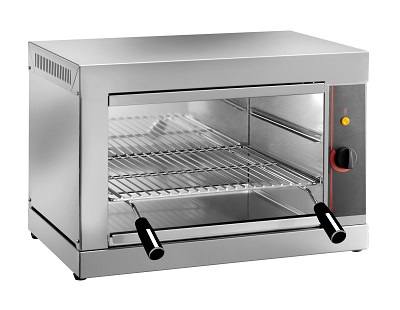 SALAMANDRA SM2

- Stainless steel structure
- Armoured heating elements and power regulator
- Italian production
- CE mark

TECHNICAL DATA
- Power 2200 watt single phase
- Volt 230/1N/50-60
- Dimensions 550x360x400h mm
- Internal dimensions 410 x350
- Useful height 100 -180
- Net weight 16,50
- packing size 62x50x52h cm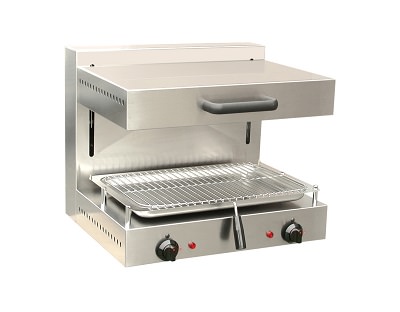 SALAMANDRA SD400

- Stainless steel structure
- Armoured heating elements and regulator. Armoured heating elements and power regulator
- Italian production
- CE mark

TECHNICAL DATA
- Three-phase power 4000 watts
- Volt 400/3N/50-60
- Dimensions 600x480x500h mm
- Grill dimensions 50 x 30 cm
- Useful height 120 - 220
- Net weight 43,80 kg
- Packing dimensions 67x63x67h cm



- Net weight 43, 80 kg