Teknoline Electric countertop toasters with 1 and 2 cooking zones
Our professional toasters heat and cook toasts, sandwiches, pizzas, croutons, bruschettas, piadinas, buns, hamburgers, frankfurters and precooked food, indispensable in bars, snack bars, pubs, beer gardens and public beach facilities.
This is to ensure speed and quality of service to the customer.


Efficient, reliable and versatile to meet all needs and are great if you have space problems!

Electric professional countertop roasters TEKNOLINE Made in Italy roasters Professional catering equipment

All the roasters presented are conceived and designed in Italy, all to meet the demanding requirements of professional and hotel workers.


The electric roasters that make up the range have 1 or 2 cooking zones


The professional roasters are made of stainless steel to meet the strictest standards of quality and hygiene, highly recommended for hotels, bars, pubs, clubs, etc.......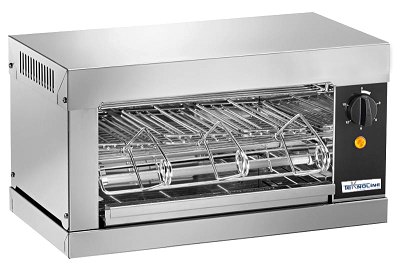 Electric toaster Teknoline 1 cooking zone
Model TEKNOLINE TO3

Single-level toaster
- complete with tongs
- made of stainless steel
- quartz lamps
- functioning light signal
- drain tray
- cooking residues
- timer 0-15
- CE mark - Italian production

Technical features hotel toaster
- V 230/1N/50-60
- dimensions 40mm x 240mm x 250 H mm
- internal dimensions 320mm x 230mm
- useful height 80mm
- WATT 2000
- cooking zone 1
- net weight 6.50 kg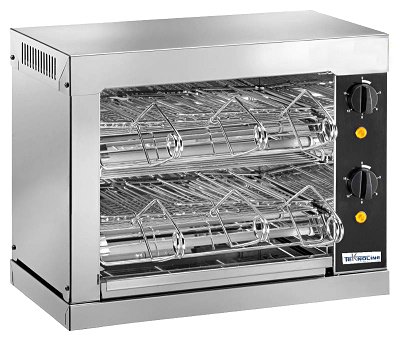 Electric toaster Teknoline 1 cooking zone
Model TEKNOLINE TO6

Toy toaster with 2 levels
- complete with tongs
- made of stainless steel
- quartz lamps
- functioning light signal
- drain pan
- cooking residues
- 0-15 timer
- Brand name
- stainless steel toaster. timer 0-15
- CE mark - Italian production

Technical features
- V 230/1N/50-60
- dimensions 40mm x 240mm x 380 H mm
- internal dimensions 320mm x 230mm
- useful height 80x2 mm
- WATT 3000
- cooking zone 2
- net weight 8.60 kg