TEKNOLINE professional pasta cooker is a pasta cooker of Italian production Equipment for professional catering




Pasta, one of the Italian excellences, and well or badly we all know, apart from the various condiments,...............cuocarla.

But if we have to cook pasta in great quality, quickly and professionally how do we do?

M.PC. presents the CPS25 pasta cooker by Teckoline, an Italian company that has always been involved in supplying equipment and articles for large-scale catering.

Designed and engineered in Italy, everything is designed to meet the demanding requirements of professional and hotel work.

The professional electric pasta cooker comes with 3 baskets, thermostat 0-110° C and drainage tap, ideal for cooking large quantities of pasta.

Made of stainless steel to meet the strictest standards of quality and hygiene, it is highly recommended for hotels, bars, pubs, recreational clubs, accommodation facilities, canteens, etc.......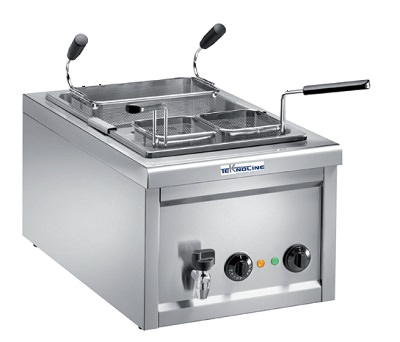 Article TEKNOLINE CPS400

The whole structure, tank, baskets and bottom grid are made of stainless steel.
- Thermostat 0-110
- Switch 0-I
- Drain tap
- Standard equipment
-nr. 1 basket 26x17x16h cm
-nr. 2 baskets of 13x17x16h cm

TECHNICAL DATA
- V 230/1N/50-60
- dimensions 400mm x 700mm x 340H mm
- WATT 3200
- capacity 25 liters
- net weight 13,50 kg
- packing dimensions 670mm x 400mm x 370mm

- stainless steel box