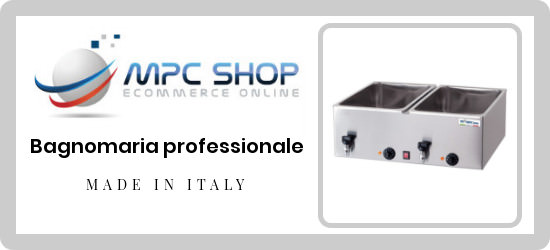 Professional bain-marie , bain-marie cooking


Bain-marie cooking is a type of indirect cooking, i.e. it is the cooking of a food placed in a container which in turn is placed in another container filled with water which, even if heated, must never boil.

It is a slow, gentle cooking process commonly used not only for cooking but also for heating or melting.


Particularly suitable for all those preparations that need a very slow and controlled cooking that goes from 80 to 95 degrees, usually not suitable for those who are in a hurry.


This type of cooking, if done at a professional level, requires specific items and M.PC. presents the bain-marie BM16 by Teckoline, an Italian company that has always been involved in supplying equipment and items for large restaurants and catering.

Bain-marie of Italian production, completely made of stainless steel with a working thermostat that goes from o° to 90° C. and does not burn in the absence of water.

The realization in stainless steel is to respond to the strictest standards of both quality and hygiene with highly recommended for hotels, bars, pubs, clubs, accommodation facilities, canteens etc.......






Article TECKOLINE-BM16


- Professional bain-marie at the best price
Italian made
- Structure made of stainless steel
- Working thermostat 0- 90°
- Equipped with thermostat 0- 90°.90°
- Equipped with heating plate
- Does not burn in case of lack of water
- CE mark
- TECHNICAL DATA
- Power 1000 watt
- Volt 230/1N/50-60
- Dimensions 340x540x250h mm
- Bowl depth 160 mm
- Net weight 7,20 kg

- Packaging dimensions 40x63x37h cm